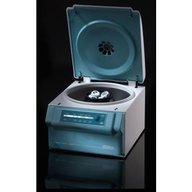 Hettich Rotina 420
C4701
The Rotina 420 centrifuge is a new, compact benchtop centrifuge conceived for high sample throughput as well as for high sample volumes. With a maximum capacity of 4 x 600 ml, 140 blood collection tubes or 16 microtitre plates are ideal for applications in clinical chemistry, in biotechnology and in life science research facilities.
Details
Performance
High capacity

max. 4 x 600 ml

High RCF

up to 16,504 for 94 ml tubes

up to 12,007 for 250 ml bottles

up to 24,400 for reaction tubes
Design
Metal housing

Stainless steel centrifuging chamber

Viewing port in the lid
User-friendliness
Automatic lid locking

Ergonomic control and information panel

Easy rotor changing

99 program storage spaces
Safety
Lid locking and holding

Emergency lid lock release

Lid dropping protection

Automatic rotor recognition

Imbalance switch-off

Motor overheating protection
Features
Refrigeration
Typical capacities
84 x Blood tube 4-7mm (13mm)
72 x Blood tube 7-10ml (16mm)
52 x Conical 15ml
20 x Conical 50ml
24 x Universal 25ml
16 x 96 well microplate
Availability
New price
£6147.00
Manufacturer's list price. Please call our sales office for potential discounts that may apply.
Accessories for Hettich Rotina 420
| | |
| --- | --- |
| This part has replaced ... | |
| Plate Carrier for A4784-A | |
| | |
| Round Carrier 600ml for A4784 | |
| Insert for 24 x microtubes 11 mm x 38mm | |
| Insert for 35 tubes 8-11mm x 60-92mm | |
| Insert for 26 tubes 12-13mm x 75-100mm | |
| Insert for 18 tubes 15-17mm x 75-125mm | |
| Insert for 7 x tubes 24-26mm x 90-110mm (includes plastic Universals) | |
| 30ml Universal tubes, no label - polystyrene (pack of 400) | |
| 30ml Universal tubes, no label - Polypropylene (pack of 400) | |
| 30ml Universal tubes, printed label - Polypropylene (pack of 400) | |
| 30ml Universal tubes, plain label - Polystyrene (pack of 400) | |
| 30ml Universal tubes, with spoon, no label - Polypropylene (pack 400) | |
| 30ml Universal tubes, with boric acid, no label - Polypropylene (pack of 400) | |
| 30 ml Universal, labelled - Polystyrene (pack of 400) | |
| Insert for 4 x tubes 34-35mm x 100-105mm | |
| Insert for 3 x tubes 38-40mm x 106-115mm | |
| Insert for 2 x glass tubes 44mm x 100mm | |
| Insert for 1 x 250ml glass tube 65 x 115mm | |
| Insert for 21 tubes 11-13 mm x 60-100 mm | |
| Insert for 13 x 15 ml Falcon tubes | |
| 15ml Graduated centrifuge with screw cap (pack of 500) | |
| Insert for 5 x 50 ml Falcon tubes (skirted or unskirted) | |
| 50ml Conical Sterile Polypropylene Centrifuge Tube With Screw Cap (Pack of 20) | |
| Insert for 1 x plastic bottle A5127 (62mm x 122mm) | |
| Insert for 1 x 400ml bottle 81-84mm x 134-136mm | |
| Insert for 15 x conical tubes (Falcon style) 17mm x 100mm | |
| Hygienic lid for A4780 | |
| Adapter for 1 x 175 and 225 ml tubes, conical (Falcon type) | |
| Adapter for 1 x 175 and 200 ml tubes, conical (Falcon type) | |
| Modification kit and clamp 122.5 mm | |
| 4 Place Rotor | |
| 250 ml sealable metal bucket | |
| Insert for 12 tubes 12 x 75 mm - 100mm | |
| Insert for 12 tubes 12 x 100 mm | |
| Insert for 8 x 4ml - 10ml blood collection tubes (diameter up to 17mm) | |
| Insert for 4 tubes 24 x 100 mm | |
| Insert for 1 tube 34 x 100 mm | |
| Insert for 1 tube 44 x 100 mm | |
| Insert for 1 tube 40 x 115 mm | |
| Insert for 1 x 250 ml glass tube | |
| Insert for 7 x 15 ml Falcon tubes | |
| Insert for 2 x 50 ml Falcon tubes | |
| Insert for 3 x 25ml conical tubes | |
| Insert for 2 x 50ml Falcons tubes | |
| Insert for 8 x 1ml - 5ml blood collection tubes (diameter up to 13mm) | |
| Insert for 1 x 250 ml bottle 62 x 135 mm | |
| Insert for 7 tubes 17 x 100 mm | |
| Sealing Lid for A5092 | |
| | |
| Metal bucket | |
| Insert for 40 x 1.5-2.2 ml microtubes | |
| Microtube 1.5ml yellow (pack of 5000) | |
| Microtube 1.5ml blue (pack of 5000) | |
| Microtube 1.5ml green (pack of 5000) | |
| Microtube 1.5ml pink (pack of 5000) | |
| Microtube 1.5ml Twist Lock (pack of 5000) | |
| Microtube 2.0ml Polypropylene (pack of 500) | |
| Microtube 1.5m threaded and not skirted (pack of 500) | |
| Cap with integral O ring for above (pack of 500) | |
| Insert for 16 x 1.5-2.2 ml microtubes | |
| Insert for 20 blood collection tubes 8 x 66 mm | |
| | |
| | |
| Insert for 12 blood collection tubes 15 x 75 mm | |
| Insert for 12 blood collection tubes 15 x 92 mm | |
| Insert for 5 tubes 24 x 100 mm | |
| Insert for 2 tubes 34 x 100 mm | |
| Insert for 1 tube 40 x 115 mm | |
| Insert for 1 tube 44 x 100 mm | |
| Insert for 12 blood collection tubes 13 x 65-75 mm | |
| Insert for 11 blood collection tubes 16 x 92 mm | |
| Insert for 7 x 15 ml Falcon tubes | |
| Insert for 5 x 30ml conical tubes | |
| Insert for 2 x 50 ml Falcon tubes | |
| Double stage insert for cyto slide carriers | |
| Does not include the Angled chamber and Filter card | |
| | |
| Pack of 200 Filter cards for 1,2 and 4ml Cyto chambers. | |
| Filter cards for 1ml, 2ml and 4ml cyto chambers. | |
| | |
| | |
| | |
| Filter cards for 8ml cyto chamber. | |
| Filter cards for 8ml cyto chamber. | |
| | |
| Filter cards for 3 x 2ml cyto chamber. | |
| Filter cards for 3 x 2ml cyto chamber. | |
| | |
| Filter cards for 4 x 1ml cyto chamber. | |
| Filter cards for 4 x 1ml cyto chamber. | |
| | |
| Lid for bucket A5051 | |
| 4 x 250ml Rotor | |
| 100 ml metal bucket | |
| Insert for 7 tubes 14 x 100 mm | |
| Insert for 36 tubes 6 x 45 mm | |
| Insert for 14 tubes 10 x 60 mm | |
| Insert for 12 tubes 12 x 82 mm | |
| Insert for 2 x 25ml tubes | |
| Insert for 1 x 50 ml tube 34 x 100 mm | |
| Insert for 1 x 100 ml tube 44 x 100 mm | |
| Insert for 7 blood collection tubes 12 x 81-105 mm | |
| Insert for 4 blood collection tubes 16 x 57-92 mm | |
| Insert for 7 blood collection tubes 16 x 81 mm | |
| Insert for 1 x 50 ml Falcon tube | |
| U' Well Microtitration plate (pack of 100) | |
| F' Well Microtitration plate (pack of 50) | |
| V' Well Microtitration plate (pack of 100) | |
| Lid for Microtitre plates (pack of 50) | |
| Insert for 9 microtubes | |
| Insert for skirted 50 ml Falcon tubes | |
| | |
| Rectangular sealable metal bucket | |
| Insert for 12 tubes 10 x 60 mm | |
| Insert for 30 tubes 6 x 45 mm | |
| Insert for 8 blood collection tubes 13 x 75-100 mm | |
| Insert for 12 blood collection tubes 11 x 66 mm | |
| Insert for 12 blood collection tubes 11 x 92 mm | |
| Insert for 6 blood collection tubes 16 x 100 mm | |
| Insert for 2 tubes 24 x 100 mm | |
| Insert for 1 tubes 34 x 100 mm | |
| Insert for 6 tubes 17 x 100 mm | |
| Insert for 5 blood collection tubes 17 x 75-92 mm | |
| Insert for 1 x 15ml Falcon tube | |
| Insert for 1 x 50 ml Falcon tube | |
| Insert for 9 x 1.5-2.2 ml microtubes | |
| Insert for 5 blood collection tubes 15 x 75-92 mm | |
| Insert for 12 blood collection tubes 8 x 66 mm | |
| Insert for 2 x 25/30ml conical Falcon | |
| Sealing Lid for bucket A1427 | |
| Carriers for A1494 and A4754 Rotor | |
| Insert for 4 tubes 15-17 x 91-105 mm | |
| Rubber pad for 15 ml carriers | |
| Insert for 1 x 25 ml tube (inc. plastic Universals) | |
| Insert for 1 x 50 ml tube 34 x 100 mm | |
| Insert for 27 tubes 6 x 45 mm | |
| Insert for 9 tubes 10 x 52-60 mm | |
| Insert for 1 x 15 ml Falcon tube | |
| Insert for 4 tubes 16 x 75 / 100 | |
| Insert for 5 microtubes | |
| Insert for 1 x tube 25 x 110mm | |
| Insert for 5 tubes 13 x 75-105 mm | |
| Insert for 1 x 50 ml Falcon tube | |
| Insert for 1 x 85 ml tube 38 x 101 mm | |
| Insert for 4 blood collection tubes 15 x 75-92 mm | |
| Insert for 1 tube 29 x 107 mm | |
| Insert for 1 tube 26 x 95 mm | |
| Insert for 1 x 50 ml Skirted Conical Tube | |
| Rubber pad for 100 ml tubes | |
| Rubber insert for chrome bath tubes 0534 | |
| Insert for 7 tubes 8 x 66 mm | |
| Insert for 1 x tube 25 x 90mm | |
| Insert for 1 x 12ml conical skirted tube | |
| Lid for A1481, A1490 and A1495 Carriers | |
| O rings for 1492 lids (set of 4) | |
| 30 Place 1.5 -2ml Angle Rotor 15000RPM / 24,400 xg RCF | |
| Adapter 1-place for microlitre tubes 0.5/0.8 ml (6 pcs.) | |
| Microtube 0.4ml Beckman (pack of 1000) | |
| Microtube 0.5ml RNAse free (pack of 1000) | |
| Microtube 0.5ml RNAse free (pack of 1000) | |
| Adapter 1-place for microlitre tubes 0.2/0.4 ml (6 pcs.) | |
| Adapter 1-place for microlitre tubes 1.5 ml (6 pcs.) | |
| Pediatric tube adapter | |
| 4 Place 250ml Rotor 9500RPM / 12,007 xg RCF | |
| Insert for 8 x 10ml tubes in rotor A5645 and A4795 | |
| Insert for 3 x 25-30ml tubes in rotor A5645 and A4795 | |
| Insert for 1 x 50ml tube in rotor A5645 and A4795 | |
| Insert for 1 x 85ml tube in rotor A5645 and A4795 | |
| Insert for 7 x 15ml tubes in rotor A5645 and A4795 | |
| 6 Place 85ml Rotor 11000RPM / 16,504 xg RCF | |
| Insert for 1 x 50 ml tube 29 x 105 mm (inc. 50 ml Oakridge) | |
| Insert for 1 x 30 ml tube 26 x 95 mm (inc. 30 ml Oakridge) | |
| Insert for 2 x 10 ml tubes 16 x 75mm | |
| Suspension 1 x 1.6 - 6 ml | |
| Suspension 1 x 4 - 10 ml | |
| Insert for 4 microtubes | |
| Insert for I tube 16-17 x 75-100 mm | |
| Insert for 1 x 50 ml Falcon tube | |
| Insert for 1 x 15 ml Falcon tube | |
| Insert for 1 x 75 ml tube 35 x 105 mm | |
| Adapter 1-place for 5 ml tubes, conical, fitting into rotors 1792, 4794 and 5615 | |
| Rolling cabinet for Hettich centrifuge, high and narrow, sturdy design featuring castors... | |
| Rolling cabinet for Hettich centrifuge, low and narrow with one drawer, sturdy design... | |
| Professional Flight Case for safe and easy transportation | |
| Max. RCF 3,926 (shown with carriers A4745 and lids A4627) | |
| | |
| Sealing lid for bucket A4623 and A4745 | |
| Plate carrier for buckets A4623 and A5628 | |